Resources
INSIDE DIRECT MAIL — How I Beat the Control: Avid Evolves Beyond the Double Post Card
Creative Brief Template — a simple but complete two-page template
for gathering the essential information needed to brief your writer and
designer.
Now Available on Kindle!
How To Turn Your Job Into A Business For Greater Wealth And Security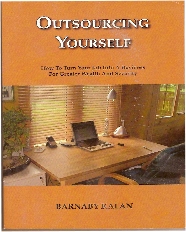 - If you have ever wanted more job security…
- If you've ever wanted to work from home or
work part-time, and spend more time with
your family…
- If you'd like to scale back your work hours
without retiring…
- If you've ever wanted to "freelance" or
become an independent consultant…
Then read a FREE sample of Outsourcing Yours now!/strong>
Murphy's Laws of Freelancing
If you're involved in freelancing or working as an independent consultant, you will recognize these "Murphy's Laws" as oddly relevant to the work we do.
A Lifetime Library of Direct Marketing Books
If you're like me, you love discovering a new book on direct marketing and getting ideas buzzing around in your head, inspired the work and experience of others. I especially enjoy finding classic books written by the legends in our business, such as out-of-print editions by master copywriters from 50 years ago.
Therefore, as a service to visitors to this site, I continue to update what is probably the most comprehensive list of books (293 and counting) on direct marketing available.