Resources
How To Turn Your Job Into A Business
For Greater Wealth And Security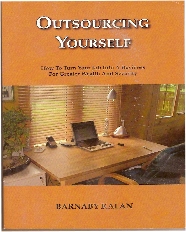 – If you have ever wanted more job security…
– If you've ever wanted to work from home or work part-time, and spend more time with your family…
– If you'd like to scale back your work hours without retiring…
– If you've ever wanted to "freelance" or become an independent consultant…
Then read more about the book right here and request a FREE copy.
Murphy's Laws of Freelancing
Okay, it's not all serious business. If you're a freelancer or consultant, you'll probably recognize these "Murphy's Laws of Freelancing."
Creative Brief Template — Here's a simple two-page template to get you started on gathering the essential information needed to brief your copywriter and designer. However, please note, most A-level copywriters will want a lot more than this basic information.